Spartan Copper
Spartan Copper filament is an innovative copper filled filament which is PLA based and reinforced at 80% with copper fillers. Meet the glory with Spartan Copper!
---
The printing process is easy, and after that you can sand and polish the printed part! The amazing thing is that you can treat your printed part like metal and process it sameway! You can create objects that will be 3 times heavier than PLA, feel like metal in touch and have thermo-conductivity. Our unique formula includes a lubricant which increases the flow and prevents the clogging of the nozzle. You can print Spartan Copper almost in every FFF 3d printer with nozzle ≥ 0.4mm.
80% copper reinforced material
PLA-based 3 times heavier
Metal feel and thermo-conductivity
Excellent printability on both direct & Bowden style 3D printers
Easy polishing and other post-processing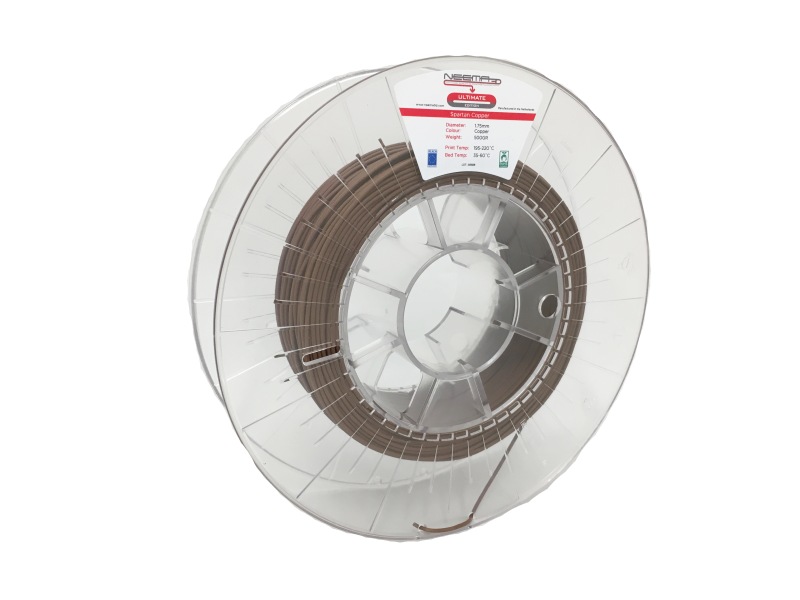 *Spartan Copper filament is abrasive so consider using a hardened steel nozzle for longer life of your nozzle.
Specifications
Dimensions
| Size | ø tolerance | Roundness |
| --- | --- | --- |
| 1,75mm | ø 0,05mm | 95% |
| 2,85mm | ø 0,10mm | 95% |
Physical properties
Description
Testmethod
Typical value
Specific gravity
ISO 1183
3,39 g/cc
MFI
-
na
Yield stress (50mm/min)
ISO 527
18,3 MPa
Strain at break (50mm/min)
ISO 527
8%
Tensile (E) modulus (1mm/min)
ISO 527
Impact strength, Izod unnotched 23˚C
-
11,3 KJ/m2
Thermal properties
| Description | Testmethod | Typical value |
| --- | --- | --- |
| Printing temp. | - | 195-220˚C |
| Melting temp. | ISO 294 | 195˚C ± 10˚C |
| Vicat softening temp. | ISO 306 | ± 65˚C |
Ultimate Packaging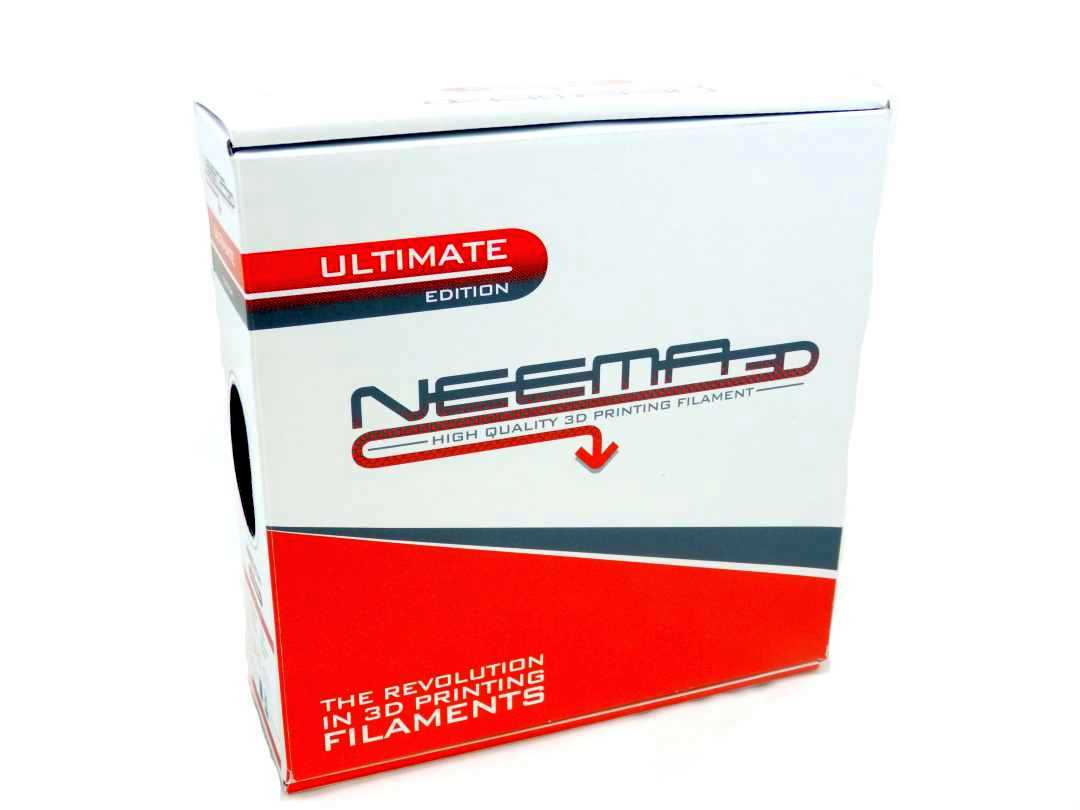 NEEMA3D™ Ultimate edition is available in a custom box with transparent spool and a resealed vacuumed bag. The spool helps you to know how much filament is left at any time and with the resealed vacuumed bag you can store your filament to keep the proper humidity even after you open it!